Our nursery caters for up to 12 babies with a large beautifully landscaped separate outdoor area which will take your breath away. Inside our Nursery has a well resourced large space for freedom of movement and freeplay, along with a sleeproom which is a calm and quiet space for our children to sleep. Our teachers build calm nurturing relationships with the children and ensure each child feels safe and secure as they explore and discover the world around the them. Our Nursery routines are unhurried and flexible and through regular communication with our parents, who we respect as first teachers, we carefully connect to our infants and toddlers home routines.
The philosophy of R.I.E (Resources for infant education) informs our teaching practices which are predictable and calm, and individually responsive. Our teachers observe each child's well-being and learning progress which enables them to meet each infant and toddlers needs and support their learning. The teachers intentionally provide open-ended materials for the children to freely explore and play with using all their senses.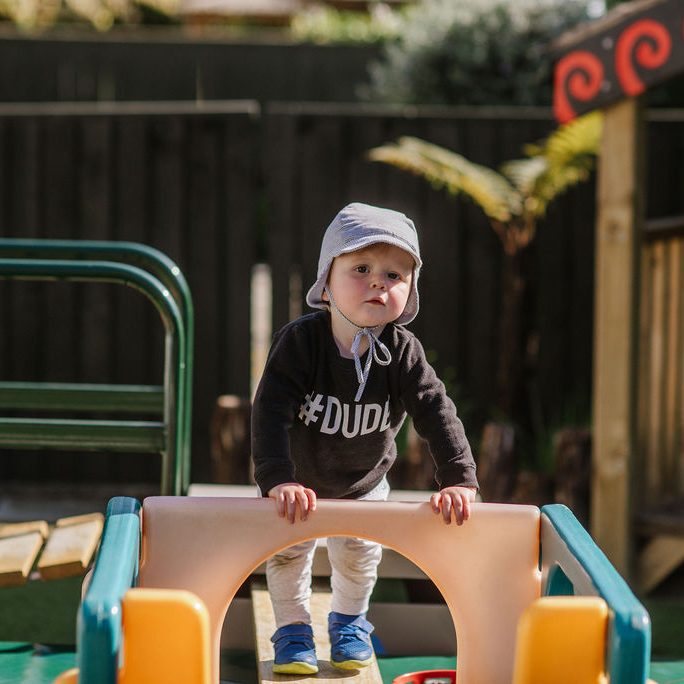 Communication
For children aged 0 – 2 years old, we provide you with a communication diary so our teachers in the Nursery area can keep you updated with daily information about your childs day.
As well as daily face-to-face catch ups about your child's day at drop off and pick up time, we also use Storypark to share photos, videos and audio of your child's development so you never miss out on those treasured milestones.
Transition
We encourage 3 settling visits, before your child's start date to ensure a smooth and settled transition for both you and your child.
When a child is ready to transition between the Nursery and Preschool areas we ensure that it is a positive step in their learning journey by having familiar teachers accompany the child for regular visits to the preschool over a 6 week period. During these visits the child is introduced to new experiences and resources while they explore new opportunities to learn and build relationships with new friends. The Centre room layout allows for the nursery children and their families to interact with preschool teachers and children each day, which also supports an easier transitioning process between the Nursery and Preschool areas.